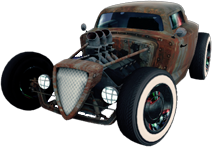 Submit photos and information of your projects… Send information about your garage and we will publish here…. FREE!
Submit Your Rat Rod Project
Do you have an incredible Rat Rod project that you want to share with the world? At RatRodUSA.com, we provide a platform for enthusiasts like you to showcase their unique creations and be part of the vibrant Rat Rod community.
Whether you've built a stunning custom car, a rugged truck, or a vintage masterpiece, we invite you to submit your Rat Rod project to be featured on our website. Here's how you can share your Rat Rod with us:
Prepare your submission: Gather high-quality photographs of your Rat Rod from various angles, highlighting its distinctive features and design elements. Include details such as the make, model, and any modifications or customizations you've made.
Write a description: Provide a captivating description of your Rat Rod, sharing the inspiration behind your build, the challenges you faced, and the unique aspects that make it stand out. Feel free to share any interesting stories or anecdotes related to your project.
Contact us: Send an email to office@ratrodusa.com with the subject line "Rat Rod Project Submission." Attach your high-quality photographs and include the written description of your Rat Rod in the body of the email. Don't forget to include your name and contact information.
Terms and conditions: By submitting your Rat Rod project, you acknowledge that you are the rightful owner of the photographs and content provided. You grant RatRodUSA.com the permission to feature your project on our website and social media platforms, giving proper credit to you as the creator.
Await review and publication: Once we receive your submission, our team will carefully review your Rat Rod project. If selected, we will notify you and work with you to finalize the details before publishing your project on our website. Please note that due to the volume of submissions we receive, it may take some time for us to respond.
Submit to e-mail: office@ratrodusa.com
(0)